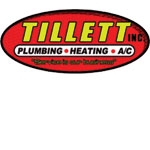 We are small  family operated business that was founded by Jeffrey & Betty Tillett Sr. in 1990. We started out by working only nights and weekends in the early stages and then took the leap of faith in 1994 to go full time. By October of 1998 we incorporated.
Tillett Plumbing & Heating Inc. has always prided ourselves on being fair and honest with our customers and providing them with the best customer service and workmanship in the area.  We became a Women Owned Business in 2010 with the principal owner being Betty Tillett.  In 2013 Jeff Tillett Jr. was given 20% of the ownership in the company.  We currently have 5 employees with all of them being family except for one.
Tillett Plumbing offers full service plumbing, heating, and air conditioning. We are happy to offer our service to both residents and businesses in Lebanon Pa, Harrisburg Pa, Lancaster Pa and the surrounding areas!
SERVICES/PRODUCTS
Hydro-Jetting
Sewer and drain cleaning and inspection
Backflow Preventer service
installation and testing
Plumbing service and installation
HVAC service and installation
Trenchless water and drain line installation and replacement