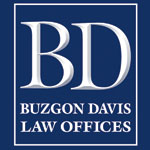 David R. Warner, Jr., Esq.
525 S 8th St
Lebanon, PA 17042
717.274.1421
HOURS
Monday-Friday
8 am - 5 pm
Buzgon Davis Law Offices has ten attorneys available to you and applies a team concept to the practice of law. When you engage an attorney from the firm, the specialized training, expertise and experience of each and every attorney in the firm is made available to meet your particular needs.
Contact Attorney Scott Grenoble.
Contact Attorney David Warner.
Our practice focuses on, but is not limited to, the following practice areas: business and commercial law, employment and labor law, estate planning, personal injury, family law, and collections.
SERVICES/PRODUCTS
Personal Injury
Divorce/Custody/Support
Social Security Disability
Business and Commercial Law
Real Estate
Wills/Trusts/Estate Settlement
Criminal Defense
Employment and Labor Law
Elder Law
School and Government Solicitorships
Bankruptcy