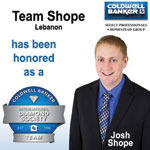 Josh Shope
555 E Chocolate Avenue
Hershey, PA 17033
717-823-1313
Real Estate
HOURS
Contact us any time!
Why Team Shope?
Results Driven. Detail Oriented. Rapid Response.
Team Shope takes pride in being a premier real estate team serving the Central PA marketplace. With nearly 100 homes sold in 2015, this dynamic team simplifies the home buying and selling process for their customers in order to take the "worry" out of the transaction. With a team of highly trained professionals and tested systems in place, Team Shope is an obvious choice for your real estate needs.
Josh Shope, REALTOR©
Knowledge. Building Relationships. Enthusiasm.
Josh stands out from most other agents because of his in-depth knowledge of homes. With over 15 years of experience building homes with his father at Shope Gardens Construction Josh cultivated his passion for the real estate industry, obtained his license, and has since played a major role in the resale and new homes marketplace.
Because of his background, Josh is able to offer a deeper knowledge about the properties his clients buy and sell. His focus is always on his client in order to help them fulfill their dreams of home ownership. Josh also enjoys leveraging technology for his clients in order to make the homes listed by his team stand apart from the rest of the market.
Contact Josh at 717-823-1313 or Josh@TeamShope.com
SERVICES/PRODUCTS
Residential Real Estate
Commercial Real Estate